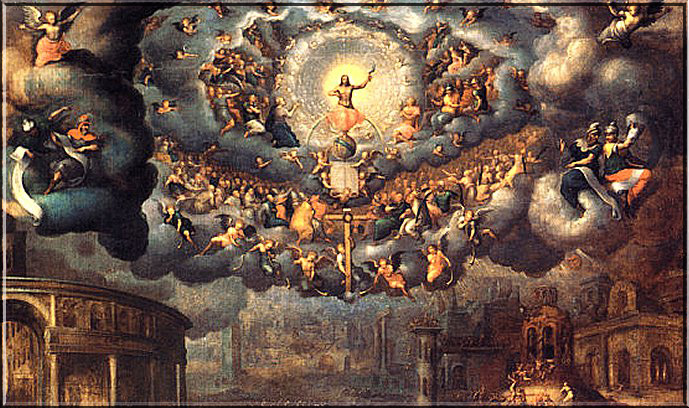 The last day of Easter, in the United States falls on the eve of Trinity Sunday. This is also the last day of the Testimonial General Judgment, starting on Pentecost Sunday Middle East Time, this means, for us in the west, Saturday evening. (1)
For the most part, Pentecost Sunday will always fall in May and occasionally in June. However, if and when Rome changes and date set's Easter in April it may fall in June all the time. Can't say if any of the Traditionalist will accept these changes, but knowing Our Lord, I would say He would prefer to come back in the month of Our Lady.
We have to also take into account that the Great Chastisement takes place before we get to Pentecost Sunday. Most likely during Lent. The faithful will be protected from this Fire. (2)
"I will be with you till the END OF THE WORLD." This is the Gospel for Trinity Sunday and by then the whole world will have gone to its destination of Heaven or Hell. Purgatory becomes eliminated. So, it's either Saints or Sinners in the Last Days. (3)
Don't forget to wear some Red for Mass this and every Pentecost Sunday.
May our Queen Reign over the minds of men, that they may seek only what is true: over their wills, that they may follow only what is good; over their hearts, that they may love only what our Heavenly Queen loves, obedience to the teachings of the Church.
Grace be with you, in Christ, Joseph B. D. Saraceno
(1) "The Day of the Lord & the Signs of His Coming." N/O Bishop McKenna O.P.
(2) "The Catechism Explained" by Fr's Spirago and Clark. pg. 272, 1921. The other source is, "The Book of Destiny" by Fr. H.B.L. Kramer pg. 367, 1956
(3) "Fundamentals of Catholic Dogma," by Dr. Ludwig Ott Page 485, 1955.
The purifying fire will not continue after the General Judgment.
Matt: 25: 34-41. No place in between here. St. Augustine says, "Let purification punishments be counted on only before that last and terrible judgment." Dr. Ott "Fundamentals of Catholic Dogma."