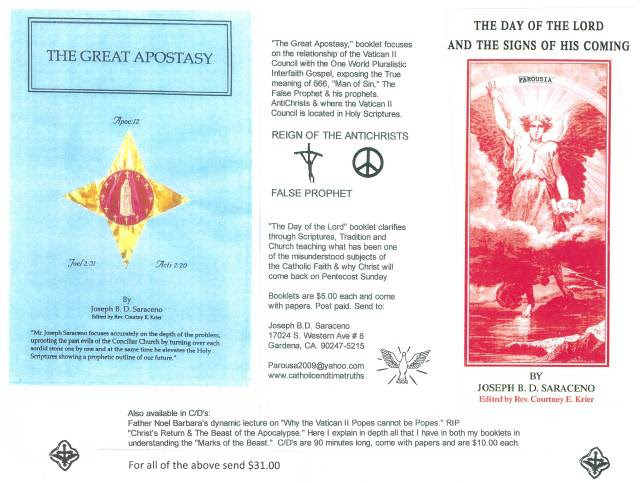 Dear readers;
In my "The Great Apostasy" booklet and other articles, I stated that "It was Paul VI who said it was a "Pastoral Council." not pope John XXIII. Foot notes on page 7.
Here is why the confusion. To the news media pope John XXIII said it would be a "Pastoral Council," but in his OFFICIAL opening address at the Council, he put the Council on the same level as past Councils negating what HE SAID TO THE NEWS MEDIA. Adding to the confusion he stated that he would be a pastoral Pope.
When Paul VI took over, he called it pastoral but he didn't make it OFFICIAL. So in fact, it remained a Doctrinal Council.
There were many of these bait and switch actions at the Council which many of us were not aware at the time. A good book on this is Father Ralph M. Wiltgen,SVD, "the Rhine flows into the Tiber."
I have just recently made this explanation change in my booklet, however, had Catholics took the time to read what pope John XXIII said at his opening address they would not have been hood-winked and would have sensed the on coming conspiracy sooner.Grace be with you, in Christ, Joseph Saraceno
Booklets are $5.00 each plus $2.00 postage;
17024 S. Western Ave # 8
Gardena, CA. 90247-5215