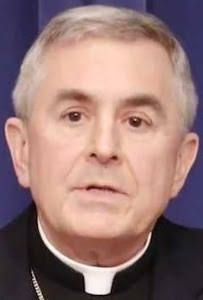 February 23, 2020 – Quinquagesima Sunday – Semidouble Sunday of the Second Class
22nd Newdiocese in the United States Crashes into Bankruptcy As Newchurch's Continuing Sex & Embezzlement Holocaust Grows
From: The TRADITIO Fathers
Ronald Gainer Newbishop of Harrisburg, Pennsylvania Has Thrown in the Towel And Bankrupted the Newdiocese Which Has Already Paid out 12,000,000 Dollars To the Child Victims of Its Newclergy's Sex Crimes And Stands Liable for Another 100,000,000 Dollars For Claims by 400 More Victims As Newchurch's Continuing Sex & Embezzlement Holocaust Grows
Harrisburg, Pennsylvania, became the 22nd Newchurch diocese to crash into bankruptcy.as a result of Newchurch's Great Sex & Embezzlement Holocaust. It had already had to pay 12,000,000 dollars to 106 child victims raped, sodomized, and otherwise sexually-assaulted by its Newchurch presbyters, Newdeacons, and Newseminarians.
In addition to the 106 child victims already paid off, there are more than 400 more as yet unpaid, to the tune of up to 100,000,000 dollars. Gainer is trying to get the jump on a pending constitutional amendment for Pennsylvania that would allow victims to continue to sue after the current statute of limitations. Bankruptcy would stop further victims from filing. Thus, Newbishop Ronald Gainer threw in the towel on February 19, 2020. [Some information for this Commentary was contributed by the Associated Press.]
Newdioceses that have already been bankrupted by the Newchurch Holocaust include:
Portland, Oregon (07/06/04)
Spokane, Washington (12/06/04)
Davenport, Iowa (10/10/06)
San Diego, California (02/27/07)
Fairbanks, Alaska (filed 03/01/08)
Wilmington, Delaware (10/18/09)
Milwaukee, Wisconsin (01/04/11)
Gallup, New Mexico (11/12/13)
Stockton, California (01/15/14)
Helena, Montana (02/12/14)
Tucson, Arizona (09/20/14)
Winona, Minnesota (10/2014)
Duluth, Minnesota (12/08/14)
St. Paul-Minneapolis, Minnesota (01/16/15)
Agana, Guam (11/2018)
Santa Fe, New Mexico (11/30/18)
San Juan, Puerto Rico (08/29/19)
Rochester, New York (12/12/19)
True Catholics, while the criminal Newbishops of the United States try to outrun the law and deprive their child victims of at least financial recompense for the horrible crimes that Newchurch clergy have committed against them, many of the states of the United States are extending or eliminating the statutes of limitation for these paedophile crimes. At the same time the U.S. Federal Bureau of Investigation is investigating Newchurch crimes, and a case currently pending in federal court has charged all 300 Newbishops for fraud in the Peter's Pence scam, under which Francis-Bergoglio was raking in money to shore up the failing and immoral Newchurch although the donors were told that their donations were going to charitable works.