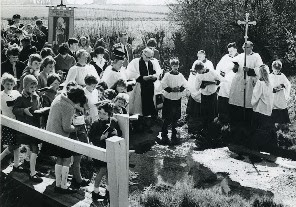 On These Four Days before This Thursday's Holyday of the Ascension of Our Lord. The Faithful Traditionally Chant or Recite before Holy Mass the Litany of the Saints
From: The TRADITIO Fathers
The Four Days before the Holyday
Of the Ascension of Our Lord
(Ascension Thursday)
Is the Period Known as Rogationtide
On These Days the Faithful Traditionally
Beseech the Lord against Wars
Fires, Earthquakes, and Attacks
By Chanting or Reciting before Holy Mass
The Litany of the Saints
The Newchurch of the New Order
Which Is Most Certainly Not the Catholic Church
Did away with These Special Days of Prayer to God
One of the Traditions coming from the early Church, even before the reign of Pope St. Gregory the Great (ca. 600), is that of the Rogation Days, which start in 2022 on Sunday, May 22, with Rogation Sunday, the Fifth Sunday after Easter. (Naturally, the Newchurch of the New Order, which is most certainly not the Catholic Church, did away with the Rogation Days.) Rogation Sunday is followed by Rogation Monday, Tuesday, and Wednesday of this week, the days before Ascension Thursday, and this period is known as Rogationtide. The word rogation comes from the Latin rogare, meaning "to beseech." Before Holy Mass on this Monday, Tuesday, and Wednesday, the Litany of the Saints is customarily chanted or recited.
The origin of the Rogation Days goes back to the fifth century, when St. Mamertus, the archbishop of Vienne in France, was faced with many calamities in his diocese. There were wars, earthquakes, fires, and attacks by wild animals. One Easter night, when a serious fire was about to destroy the city, the archbishop began to pray zealously, and the fire was immediately extinguished. The archbishop then instituted the Rogation Days. This practice ultimately spread to the whole Church. Wars, fires, earthquakes, and even attacks by wild animals remind us of the travails of the present day as well, and we need these prayers just as much.
The Rogation Days are followed immediately on the next day, by Ascension Thursday, the Feast of the Ascension of Our Lord, a Holyday of Obligation. A Holyday of Obligation is a religious feastday so important that the Church has traditionally attached the pain of Mortal Sin to the willful failure to assist in worshipping our Creator at the Holy Sacrifice of the Mass on this day, just as on Sunday. As if any Catholic, who loves His Savior and the Holy Mass, needed any such obligation.
The Feast of the Ascension of Our Lord is not a day set by man, but by God Himself. It is set in Sacred Scripture (the Bible) exactly on a Thursday, exactly forty days after Easter (Acts of the Apostles 1:3), on a Thursday, just as the flood that inundated the earth lasted forty days, and Christ's fast lasted forty days.