From: The TRADITIO Fathers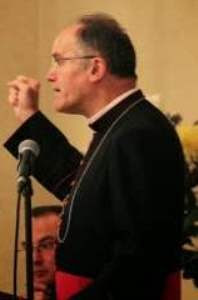 Now it can be said officially. Bernie Fellay, former Superior-general of the Neo-SSPX and current member of its Executive Committee, is a heretic. He has personally embraced the heretical Novus Ordo by serving as an Official hired by the heretic Newpope Francis-Bergoglio's administration.
Fellay publicly admitted the truth at a press conference on September 3, 2018 — not, however, from the Neo-SSPX headquarters at Menzingen, Swizerland, but from a much more distant land, the Philippines. Yet the news these days is worldwide, and his admission of heresy did not escape the notice of the international press. Fellay admitted that he had served officially in several cases as a Novus Ordo judge. He even used a kangaroo Newvatican court to punish one of his own priests. By these acts, Fellay recognized the legitimacy of the heretical Newchurch of the New Order.
Fellay admitted that his heresy may have been in vain. Francis-Bergoglio has stated that Newchurch will not "recognize" the Neo-SSPX until it "accepts the Novus Ordo and the Second Vatican [Anti-]Council." [Some information for this Commentary was contributed by the Dutch newspaper, NL News.]
True Catholics, just as the Newchurch of the New Order is not the Catholic Church, the Neo-SSPX, founded in 1994 by Bernie Fellay, is not Archbishop Marcel Lefebvre's original traditional Society of St. Pius X (SSPX). One out of every five priests has left the Neo-SSPX because they reject any association with the fake Newchurch; more are continuing to leave. "God is not mocked," wrote St. Paul (Galatians 6:7/DRV). As we TRADITIO Fathers have said all along, Fellay has acted as a puppet of the Newpopes, the latest of whom, Francis-Bergoglio, has now been outed personally as a paedophile accomplice and is expected to be forced out of the Newpapacy within a year, just as was his paedophiliac predecessor, Benedict-Ratzinger.
Bernie Fellay, Former Superior-general of the Neo-SSPX
Has Now Publicly Confeseed to Heresy
He Engaged in Formal Cooperation
With the New Order Heresy on Several Occasions
He Told a September 3, 2018, Press Conference in the Philippines
That He Had Served as an Official Hired by the Heretic Newpope
To Judge Several Cases in the Novus Ordo
Moreover, He Had Used a Novus Ordo Kangaroo Court
To Punish One of His Own Priests